It's difficult, no, just impossible to imagine that he is gone… The founder and editor-in-chief of the independent newspaper "Dvazhdy Dva" (Apatity), an active member of the Barents Press International network since the first years of its work, for many of us, not just a colleague – Friend! Igor Dylev passed away on May 17, 2017. We give the floor to the journalist of the newspaper "Dvazhdy Dva" Natalia Chernova.
"Come on, add more air "…
"Give some more air! Why are you so greedy about it?" In that way almost twenty years ago he was teaching me to make up newspaper pages. He would say that tightly crammed letters and photos are a bad style and disrespect to the reader. The reader's eyes need to rest and not to overwork. The reader's  usability is very important.
In fact, the air was all that he needed. The air – thanks to science! – during the last few years was given to him through an oxygen-inhaling apparatus. Without removing plastic tubes from his nose, he managed to drink whiskey, eat, talk and laugh.
It all started on May 6, 1991. In the receiver I heard a strange, hoarse voice: "Is this Natalia? If so, we are meeting tomorrow in the newspaper office in Lenin Street". I felt even scared. But I came. And the voice matched the appearance well: a big guy wearing a sweater of rough knitting. Directly above him on a shelf there was a well-known photograph of Hemingway in a similar sweater. "Showing off…" – I thought about the guy. And he gave me some coffee and asked about my hobbies.
– Well, I'm keen on movies…
– Here's some money – go to a movie. And tomorrow write some notes. Be a film critic.
I went to the cinema, wrote notes and got a job. I was 19. He was 35.
…These days so many people have written about him. He was kind and decent, intelligent and attentive. He is a person-epoch. And almost everyone said: "He believed in me." It turns out that all we need is belief. The fact that you're in a field of someone's vision, you're interesting, whatever you are. And this, of course, is an amazing ability to see people, to know them and remember each one.
He was extremely fond of people.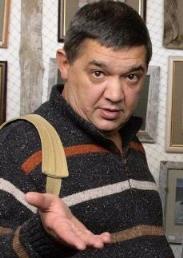 Just any kinds of visitors used to come to his office! Politicians, criminals, old ladies, businessmen, women challenging fate, doctors, laborers, policemen, poets, drunks… Each brought his or her story. Someone would get help at once: money, a call to a correct place, a meeting with the right person or an article in the newspaper. But I'm struggling to remember – and cannot – if he had asked anything for himself?
At the same time, there were people irritated by him. Often because of his faith in them. Sometimes because of his childlike naivety. Or excessive generosity. Or his style of making compliments right in the face. The thirst which he lived every day with. His  easy way of managing things. "You're a mere adventurer and the darling of fortune!" – his longtime colleague laughed. And someone added: "A cynic". And someone else: "A fool!"
Everyone always loved being at work
Today the largest managers came up with a "new" idea: to increase employees' loyalty and motivation. Programs have been developed and started to implement them. Igor introduced these techniques almost thirty years ago: everyone always loved being at work. Here in fact from morning till night one could have what it takes: jokes, debates, dinners, banquets, gifts, encouragement and criticism, disputes, problem solving, both personal and universal. No one was surprised to get an unseasonable call: you got it, then ran and write. And then you heard: "Great story, smack!" or "I asked you to picture a puddle and you brought me a piece of art! Where should I put it?"
And then there was not enough air. Literally. For the last five years he had not come to work: called, talked online, called for a visit occasionally – felt shy. Strong men don't show that they feel bad, that the clock has been running down, the battery is dead. In 2014 it was the last time he visited Greece and kept dreaming that some time… And all those years people did not see him, but saw his picture on the Internet and were sure he was living a full life enjoying his trips. And he ceased to leave the apartment in the autumn of the 2014. At all.
"Natasha, what a carefree time we were having which is over now…" – says a colleague sadly. Of course, for half a lifetime we were allowed to be carefree by one-and-only man.
Natalya Chernova, the newspaper "Dvazhdy Dva"
We express our deepest condolences to the family, colleagues and friends of Igor Dylev.